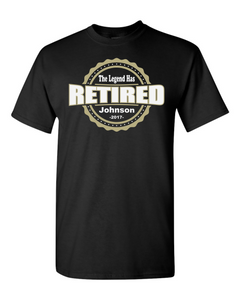 Celebrate A Retirement!
The Legend Has Retired.

Someone you know has worked long and hard to reach this stage of their life. This shirt makes a perfect gift to celebrate and honor their achievement!This shirt is available in a variety of color options and also allows you to specify the persons name-as well as retirement year.

Remember that virtually everything on our site can be changed in one form or another including design colors, materials etc. We have many other items of clothing available that are not shown as well.