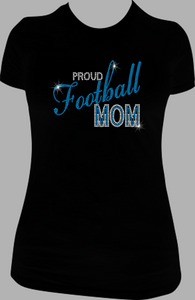 Show your Football Player some love Moms!
This  Multi-Color design features a beautiful combination of Teal Blue Rhinestones and Crystal Rhinestones.
This design is shown and sold here with a Ladies Black V-Neck shirt and is ready-to-purchase.
We have many other items of clothing available that are not shown as well. So, if you don't see exactly what you are looking for, please send us a request on our "Make Me Something Cool" page.