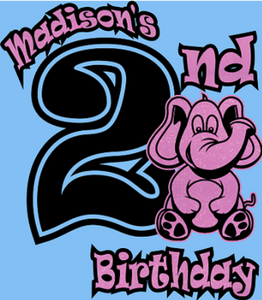 Celebrate Children's Birthday Milestones with Pre-Designed Ready-To-Go Custom Tees!




Yours will be the gift that is most remembered by both parents & child! Fully customizable with name, birth-or-month date and age as well as whimsical animal pals! You select the name, the year or month marker and the animal. We've done all the designing for you...Simple! Select this style and add customization options. 

Animal & Sea Creature choices are: Hermit Crab, Jellyfish, Koala, Giraffe, Lion, Elephant, Rhinoceros (Of-Course-er-os) Dolphin, Whale, Fish, Crab, Turtle, Sea Horse, Monkey, Dinosaur, Hippo, Ladybug, Racoon, Seal, Penguin, Fox, Cow, Owl, Star, Penguin, Bird, Octopus, Grasshopper, Snail, Turtle, Alligator, Squid, Shark, Donkey, Zebra, Horse, Cat, Dog, Butterfly, Bee.